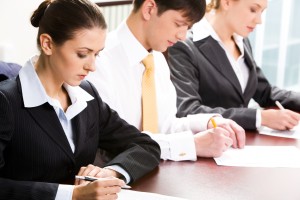 We conduct in-house (CLE) seminars and workshops for law firms, law schools, bar associations, and other organizations across the United States.  We can tailor any of our seminars or workshops to suit your organization's unique needs.
We also work with law firms and non-profits to develop, improve, or implement their professional development and diversity programs.  We also have substantial experience in designing law school skills courses or professional development programs for law school career services.
Onsite Workshops and Seminars                                                                                                                                                            (law firms, law schools, public interest organizations, bar associations)
Below is a non-exhaustive list of the typical workshops and presentations we can conduct for your organization.  We can also tailor any of our conferences to fit your organization's needs.
– The Stellar Junior Attorney
– How to Approach Your First Assignment
– The Associate's Guide to Law Firm Structures and Partnership Compensation
– Business Basics: How to Think Beyond the Case Law
– The Key to a Partner's Mind
– Oops: I Made a Mistake
– The Billable Hour: the A-Z of Billing
– Communication: A Multi-Generational Approach
– How to Stand out in Team and Client Meetings
– Effective Matter Management (includes delegation and relationship management)
– Difficult Conversations
– The Good Firm Citizen
– How to Build Your Brand and Become a Leader in the Legal Profession
– Nuts and Bolts of Successful Filings
– The Science and Art of Drafting and Responding to Written Discovery
– Third parties: Collection and Production of Third-Party Documents
– The Junior Attorney at a Deposition – How to Assist a Partner or Senior Associate to Take or Defend a Deposition
– Preparing for Your First Court Appearance
– Electronic Discovery: A Step-by-Step Guide to Document Collection, Review, and Production
– The Junior Attorney at Trial: Pre-trial and Trial Basics for the Junior Litigator
– Networking 101: Building Your House on the Rock (includes practical tools for introverts)
– The Junior Rainmaker: How to Start Building Client Relationships that Last
– Diversity as a Substantive Skill: Cultural Code Switching, Building Your Brand, Leadership, and Business Development
– The Enemy Between my Ears: Mistakes Women and Minorities Should Avoid in the Workplace
For more information, please contact our office at info@practicepro.cc or 415-237-3703.
Law Schools
In addition to the workshops and seminars listed above, we have worked with law schools to help with student interviews and preparing law students for their summer jobs.  Examples include:
– The Science & Art of Interviewing: How to Stand out in the Crowd
– How to Succeed in Your Summer Clerkship
– The Last Inning: A Workshop to Reinvigorate Your Career and Job Search Plan
– Career Management
For a list of past presentations, please click HERE.
We currently have a Professional Development Partnership Pilot Program for law schools to give them an opportunity to try all of our products and services (conference tickets, in-house training workshops and coaching, and curriculum development) in a cost-effective manner. For more information, please contact our office at info@practicepro.cc or 415-237-3703.
Outsourcing Your Training & Professional Development Needs                                                                            (law firms, public interest organizations)
You can outsource all or some of your professional development needs, on a temporary or permanent basis, to the PracticePro team.  We can (1) design, implement, and coordinate an effective, cost-effective, and dynamic professional development program for your associate or summer associate class, at one or more of your offices; (2) improve your existing professional development or diversity program curriculum; and/or (3) provide temporary support in the absence of your organization's professional development staff.
Whether you are hiring PracticePro to design and implement an entire professional development program at one of your offices or need our help to improve certain aspects of your existing professional development training, we guarantee that our programs will be:
Effective.

 Using our experience in training law students and new graduates, our training encompasses all the skills that need to be mastered by an attorney.  This includes core practical skills (e.g., research & writing, court appearances) as well as soft skills (e.g., communication), managerial skills, business concepts, and career management.  In addition to a detailed curriculum, we will work with you to create learning resources and testing materials.
Efficient & Cost-effective.  

Regardless of your training budget, we will deliver the same results at a fraction of your current cost.

Dynamic & Innovative.  

We will continuously improve and adjust the curriculum based on associate reviews, partner feedback, and the special needs and learning styles of your associate class.  You put great effort in recruiting the best and the brightest.  Let our team provide them with the group and individual attention they need so they remain effective and stay!  
For more information, please contact our office at info@practicepro.cc or 415-237-3703.  We will be happy to set up an informational meeting.
Seminar Mailing List
Want to find out when registration opens for a seminar? Don't see your city listed? Sign up below to be added to our mailing list.
Training Programs
Consulting & Coaching
Our mission is to improve the legal profession by training lawyers who are better prepared for the real practice of law.

Better prepared, balanced, and happy lawyers are more successful and can affect positive change in the legal profession.