December 1, 2014
Did you know that on average it takes 66 days to form a new habit?
In a study published in the European Journal of Social Psychology, a research team sought to determine just how long it actually takes before a new behavior becomes automatic.  The study examined 96 people over a 12-week period.  Each person chose one new behavior for the 12 weeks and reported each day on whether or not they succeeded in completing the behavior and how automatic the behavior felt.  Some people chose simple habits while others picked more difficult tasks like exercising for a certain number of minutes each day.  It took anywhere from 18 days to 254 days (estimated) for people to form a new habit, varying widely depending on the behavior, the person, and the circumstances.
The most important lesson from the study is that new behavior takes commitment and time to form.  So start today and make sure to give it enough time!

November 24, 2014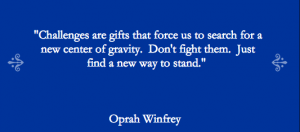 November 17, 2014
One evening an elder Cherokee told his grandson about a battle that goes on inside all people.  He said, "My son, the battle is between two wolves inside us.  One is Fear.  It carries anxiety, concern, uncertainty, hesitancy, indecision, and inaction.  The other is Faith.  It brings calm, conviction, confidence, enthusiasm, decisiveness, excitement and action."
The grandson thought about it for a moment and then meekly asked his grandfather: "Which wolf wins?"  The old Cherokee replied,"The one you feed."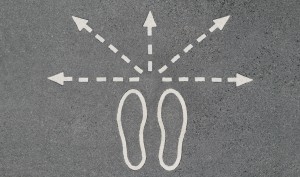 "The one you feed."  "The one you feed."  
November 10, 2014
Every day create your history
Every path you take you're leaving your legacy
Every page you turn you're writing your legacy
Every hero dreams of chivalry
Every child should sing together in harmony
– Michael Jackson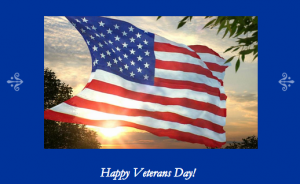 N
November 3, 2014
We can complain because rose bushes have thorns, or rejoice because thorn bushes have roses.
– Abraham Lincoln
October 27, 2014
Productivity isn't about being a workhorse, keeping busy or burning the midnight oil … It's more about priorities, planning, and fiercely protecting your time.
– Margarita Tartakovsky
October 20, 2014
You can't connect the dots looking forward; you can only connect them looking backwards.  So you have to trust that the dots will somehow connect in your future. You have to trust in something – your gut, destiny, life, karma, whatever. This approach has never let me down, and it has made all the difference in my life.
– Steve Jobs
October 13, 2014
He who has a why to live can bear almost any how.
– Nietzsche
October 6, 2014
The pessimist sees the difficulty in every opportunity; an optimist sees the opportunity in every difficulty.
– Winston Churchill
Training Programs
Consulting & Coaching
Seminar Mailing List
Want to find out when registration opens for a seminar? Don't see your city listed? Sign up below to be added to our mailing list.
Our mission is to improve the legal profession by training lawyers who are better prepared for the real practice of law.

Better prepared, balanced, and happy lawyers are more successful and can affect positive change in the legal profession.