Back to Seminar List
New Attorney Basics: The Junior Litigation Associate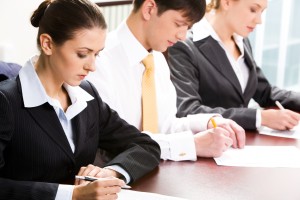 A good junior litigation associate can do legal research and write memos.  A stellar junior litigator communicates effectively, knows how to provide information in the manner expected by the supervising attorney, implements effective case management procedures, knows how to get briefs and their supporting documents filed without creating unnecessary stress, and understands his or her role in the case including helping prepare for depositions and hearings.
Become a stellar junior litigation associate by learning these essential practical skills at our full-day conference.  You can also earn up to five hours of general continuing legal education.
This conference is most beneficial for third-year law students, recent graduates, and litigators in their first two years of practice.  Second-year law students interested in litigation are also welcome.
Dates:
San Francisco, CA

Friday, December 8, 2017
Saturday, January 27, 2018
Friday, February 9, 2018
Sandbox Suites, 404 Bryant Street, San Francisco, CA 94107

Houston, TX

Friday, January 19, 2018

Haynes and Boone, 1221 McKinney St., #2100, Houston, TX 77010

Webinar

Coming March 2018
Topics & Agenda:
(Regular breaks will be provided.)
8:30 – 9:00                 Breakfast & Registration
9:00 – 10:30               From Law School to Practice
Skills of stellar junior attorneys
Elements of excellent work product & how to impress senior partners
Litigation timelines and why they matter
Implementing effective case management strategies
10:30 – 12:00           Nuts and Bolts of Pleadings and Motions
The basics of drafting and filing pleadings and motions
The important role of local rules and preliminary research
Calculating and confirming deadlines, and scheduling court hearings
Step-by-step guide to successful filings with the court
12:00 – 1:00             Networking Lunch
1:00 – 2:00               Written Discovery & Depositions
Drafting and responding to written discovery
Managing the discovery process
Assisting supervising attorneys in preparing for depositions
Deposition logistics
2:00 – 3:00              eDiscovery Primer
Overview of document collection, document review, and document production
Managing electronic discovery
Ethical obligations and challenges of eDiscovery
3:00 – 3:30               Your First Court Appearance
Helping supervising attorneys prepare for hearings
Practical tips to excel at your first court appearance
3:30 – 4:30               Pre-trial & Trial
Overview of pre-trial submissions
Practical tips on drafting and responding to pre-trial submissions
Managing the pre-trial phase
Preparing witnesses for trial
Junior associate's role during trial
CLE Information:
California & Texas – 6 hours of general CLE
Registration & Tuition:
Tuition: $ 385
Register HERE.
Refund policy
Financial aid policy
Group discounts are available for organizations including law firms and law schools.  Please contact us at info@practicepro.cc or 415-237-3703 for more information.
Seminar Mailing List
Want to find out when registration opens for a seminar? Don't see your city listed? Sign up below to be added to our mailing list.
Training Programs
Consulting & Coaching
Our mission is to improve the legal profession by training lawyers who are better prepared for the real practice of law.

Better prepared, balanced, and happy lawyers are more successful and can affect positive change in the legal profession.